By: Jan Paul
update 02-06-2023: Higher resolution group photo added.
Driving to Oldenburg on sunny German roads, the landscape just foreign enough to know that you're abroad, it's easy to get that summer holiday feeling… a working holiday however, as a delegation of Dutch kendoka was preparing to take part in the 4th Oldenburg Kendo Seminar hosted by Seikenjuku Kendo Club and Eiji Ohashi.
For those of you who have never attended, just try to make it next time. The atmosphere is friendly, Kaffee und Kuchen, sausages, beer (although after training) and last but not least, three days of kendo practice led by excellent Japanese and German sensei should be enough to win you over.
Takeshi Ishii-Sensei, 8th Dan Kyoshi (coach of the national team of Germany 2001, Tokyo Budo-kan) and Toshiro Sakata-Sensei, 8th Dan Kyoshi (Tokyo Metropolitan police) were the head teachers, assisted by Mitsuyoshi Aoki, 7th Dan Dance Yokoo, 7th Dan Sascha Yokoo, 6th Dan Christian Metzger, 4th Dan.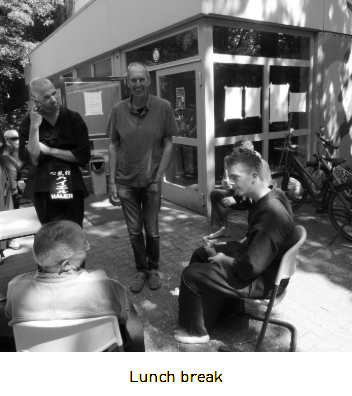 Central theme af the seminar was: Left foot, UCHIASHI=hitting foot – How important is the left foot for SEME.
Can you build a seminar on that? Yes indeed! Everyone gets something else out of a training and it would not be possible to go into every detail right here. So just on a personal note, what did I learn? Knowing that the left foot determines your position and ma-ai, use it to take the center and not just with your hands. That way you can do it from the proper distance (and not too close as I tend to). Sounds simple doesn't it? Unfortunately the most simple things are at the same time the most difficult… to be continued!
I'm sure that everyone else attending will bring back home whatever they picked up and will share it with the rest of us.
After training and dinner we retired to the Youth Hostel in Oldenburg, easily the most comfortable I've been to (I remember them with dormitories and central bathrooms, but that probably shows my age). Thank you Willem, for arranging this.
As I was leaving Sunday evening I missed the Kubun Geiko on Monday, so I can't say if it was as tough as they say…
All in all, a most satisfying seminar with enough material to practice at home.